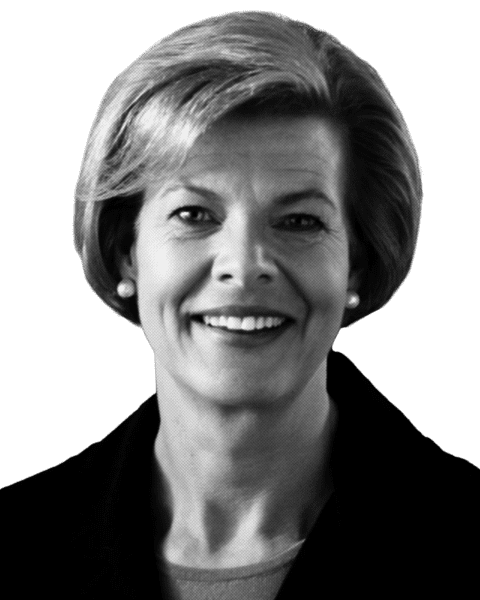 A trailblazing champion for Wisconsin women and families

Sen. Tammy Baldwin is running for reelection to ensure that hardworking Wisconsin families continue to have a voice in the U.S. Senate. Baldwin was born in Madison, Wisconsin, and raised there by her grandparents. After graduating from high school, Baldwin went to Smith College, where she double majored in mathematics and government and was active in student government and in the movement for lesbian and gay rights. After graduation, she moved back to Wisconsin, taking a job working on equal pay issues in the Wisconsin governor's office. Inspired by Geraldine Ferraro's historic campaign for vice president, Baldwin won her first elected office, a seat on the Dane County Board of Supervisors, at age 24 while still in law school at the University of Wisconsin. After serving four terms, Baldwin was elected to the Wisconsin State Assembly, where she spearheaded legislation on civil rights, collective bargaining for public employees, campaign finance reform, and reproductive rights — before running successfully for a seat in the U.S. House of Representatives. Baldwin made history as the first woman from Wisconsin elected to the House and the first openly gay person to be elected to Congress who was not an incumbent. She quickly established a reputation as a champion fighting for Wisconsin. And in 2012, when Baldwin first ran for the Senate as an underdog, EMILYs List was with her all the way. "The minute the opportunity to run for the Senate came up, EMILYs List was standing with me, shoulder to shoulder," she has said. When elected, she made history as the first openly gay person ever elected to the U.S. Senate and the first woman ever elected to represent Wisconsin in that chamber. Today, Baldwin is one of the strongest fighters we have in the Senate — and her voice is one that we need at a time when the stakes have never been higher for women and families.

A fighter committed to increasing opportunity for all

Sen. Baldwin is putting Wisconsin first and doing right by working families across the state. She is building a stronger Made in Wisconsin manufacturing economy by championing Buy American rules, confronting unfair trade deals, and helping create good-paying Wisconsin jobs. When some in Washington pushed partisan repeal efforts that would have ripped health care away from millions of Americans, Baldwin led the fight to protect access to health care. Personal experience informs her fight for access to quality health care: As a child, she was diagnosed with a serious medical condition and hospitalized for three months. After she recovered, her grandparents struggled to find a health insurance plan that would cover a child with a pre-existing condition. She is not letting up and she is continuing to push for affordable health care for every Wisconsinite and bipartisan action to address the opioid epidemic. As a senator, she has stood up to the powerful and wealthy who want to keep the system rigged in their favor by holding Wall Street accountable and taking on big pharmaceutical corporations that increase the prices of prescription drugs. No matter how much secret money these special interests spend, Baldwin will continue doing right by Wisconsinites and work to reduce the influence of special interest money in our government and our elections. Baldwin has long been part of the fight to end gender discrimination in pay: she began her career working on equal pay issues in the Wisconsin governor's office, cosponsored the Paycheck Fairness Act in the Senate, and has said that "if we can't close this gap, we might someday talk about the middle class as something we used to have — not something that each generation can aspire to." She is a pro-choice champion who is deeply committed to fighting for reproductive freedom. "Right now in states across the country, Americans are unable to make their own health care decisions," said Sen. Baldwin. "Women in states like Wisconsin are being forced to travel out of state just to see a doctor for critical health care, including abortion," she has said, and she and her colleague Sen. Patty Murray have introduced legislation to reduce the costs of travel for people seeking reproductive care so that more Americans can make the health care decisions that are best for their family, health, and future.

A must-win fight in a swing state
Sen. Baldwin's seat is once again marked as a top priority for GOP takeover, and is sure to be a magnet for special interest spending. But she has shown us time and time again that she has what it takes to run strong grassroots campaigns — and the EMILYs List community is proud to be with her every step of the way. "When I first ran for Congress, EMILYs List was with me from the start," she has said. In 1998, when Baldwin won her first congressional campaign, one of the opponents in the race ran on a platform of opposing LGBTQ+ rights. At the time, she said what the "right wing didn't count on was that the community only grew stronger," in spite of the hatred. Now more than ever, her ability to bring people together and build a positive movement for change even in the midst of incredible odds is more important than ever. The EMILYs List community is proud to stand with this exceptional public servant every step of the way on her path to reelection.