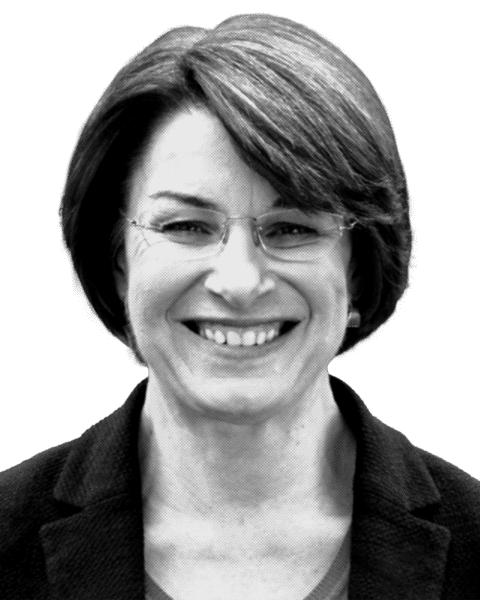 A champion for Minnesota families
Sen. Amy Klobuchar has always been guided by the values she learned growing up in Minnesota. As the granddaughter of an iron ore miner, the daughter of a teacher and a newspaperman, and the first woman elected to the United States Senate from her state, Sen. Klobuchar has built a well-earned reputation for standing up for families and workers, finding common ground, and working to deliver results. Klobuchar got involved in politics after the birth of her and her husband John's daughter, Abigail, who was sick when she was born. Even though Abigail was in intensive care, because of insurance rules, Klobuchar was discharged from the hospital after just 24 hours. She took that experience and became the leading advocate for the successful passage of one of the first laws in the country guaranteeing 48-hour hospital stays for new moms and their babies. With the help of EMILYs List, she was later elected to the U.S. Senate. Klobuchar, in her words, "puts the interests of the many ahead of the interests of a few," has one of the best track records in Washington for passing bipartisan legislation, and was ranked by Vanderbilt University's Center for Effective Lawmaking as one of the most effective senators. We know that we can count on Klobuchar to keep fighting for women and families of all backgrounds.
A fighter who gets results
Sen. Klobuchar is one of the toughest fighters we have in Washington, leading efforts to protect consumer safety, ensure economic fairness for our families, and combat violence against women and sex trafficking. Klobuchar has long been a strong advocate for strengthening Medicare and expanding access to health care for children and families, including through the Children's Health Insurance Program. She also worked tirelessly to ensure that the Affordable Care Act included provisions to expand access to breast cancer screenings and make sure people weren't kicked off their health insurance because of pre-existing conditions. She has always sought to stand up for families and workers, find common ground and work to deliver results on our country's most pressing issues, including lowering prescription drug costs, addressing climate change, protecting our democracy and restoring America's standing in the world. We need Klobuchar standing up for us in the Senate now more than ever.
A must-win fight in a swing state
Sen. Klobuchar is no stranger to tough fights. When she ran her first race for Hennepin County prosecutor, she was outspent two to one, running against a well-funded opponent whom she defeated by less than one percent in the same year that Jesse Ventura was elected governor. When Klobuchar ran for the Senate in 2006, she faced an entrenched Republican opponent — and carried 79 out of Minnesota's 87 counties — becoming the first woman ever elected to represent her home state in the Senate. She won reelection in 2018, and we know she has what it takes to win again with the full support of the EMILYs List community.