#MotorcycleVagina
By Katie Naymon and Evan Goldstein on
We've all seen the relentless assault on women's reproductive rights that Republicans have been pushing across the country. But in North Carolina today, the state legislature outdid itself. Republicans attached an anti-choice amendment to the Motorcycle Safety Act without any public notice, prompting disbelief, outrage and the hashtag #motorcyclevagina from pro-choice advocates. What's more, even though North Carolina's Republican governor campaigned on a promise not to sign any new anti-choice laws, he's changed his mind. The bill passed the House Judiciary Committee on a 10-5 party line vote, and the governor could very well sign it. We could write for days about this abuse of the democratic process, but we had a better idea. And so without further ado, we at EMILY's List present to you "The North Carolina #MotorcycleVagina Saga, as told in gifs." Enjoy!
So the Republicans are talking about the Motorcycle Safety Act. You would think they would talk about this:
Nah. They attached an anti-choice amendment though! And they were all like
And at that moment, women from across the country were like
But no matter what we think! The NC GOP are all about
And we're like
Inside, though, we're just like
Hey, Republicans, can we control what happens to our bodies?
GOP, will you start caring about women soon?
So now, if you're a woman in North Carolina and want an abortion, the GOP is like
Even though we're like
What does the GOP have to say to that?
While you're at it, check out these awesome graphics from NC Abortion Fund!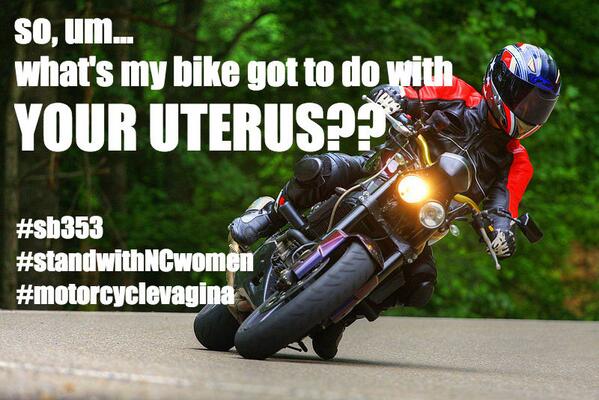 Sign up for our email list